Synopsis
A beautifully shot dramatic documentary in which the artiste is not only questioned as an object but actively participates. The painter Moshe Gershuni, is one of Israel's most important and internationally acclaimed artists. He reveals in the film his most intimate life motives.
Gershuni is a "total" artist, and a religious one in the sense that there is no distinction between his life and his art (his faith). The problems he grapples with in his daily life are the same as those that concern him in his work.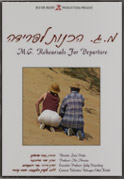 Gershuni represents the Jewish-Israeli experience in all it's diversity: Yiddish & Hebrew, Holocaust & Zionism, a romantic longing for western culture and a "Native" Israeli world. All these motives blend into an immense experience of authentic emotional tensions and conflicts.
The film it self is a preparation for a parting, a summing up of a life, crammed into a few days and through the prism of the artist's works.
Festivals & Awards
"Honorary Mention" Jerusalem International Film Festival 1997
BANFF TELEVISION FESTIVAL Canada 1998
FIFAP (Festival International Du Film d'Art et Pédagogique (In Paris, House of UNESCO, December 98 .
The 1st International Forum for a Culture of Peace by Mediterranean Women Creators in Rhodes Greece, September 2000.